Bust a Move was a Huge Success!
March 27th, 2012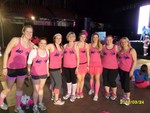 Bust a Move Edmonton wrapped up this weekend, and Atlas Auto co-owner Elaine Grenier successfully completed 6 hours of kickboxing, hip hop, yoga, zumba, salsa and an exercise session with Richard Simmons - talk about a tough workout!  Elaine and the "Hands Full of Happiness" team raised over $13,000 for the breast health, and the Bust a Move event raised over $400,000 for the Alberta Cancer Foundation!

A big THANK YOU to all who supported Elaine and this important cause. All the money raised stays right here in Edmonton, to help fund groundbreaking breast cancer research.