Grave reminder not to put your feet up on the dashboard
August 14th, 2015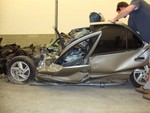 For Bethany Benson, 22, it should have been an uneventful drive back from her aunt's house in Michigan to her own in Oshawa. It was August 2, 2010, around 5 p.m. With her boyfriend at the time behind the wheel, they crossed the border and she decided to stretch out as best she could in the confines of her mom's 2002 Sunfire. She reclined the seat a little and propped her feet up on the dashboard, soon sleeping as the farmlands that lined Highway 402 outside of Strathroy, Ont., slipped past.
Bethany knows what happened next only through the accounts of other people. A small car and a motorcycle were involved in a collision that would eventually cost the motorcyclist his life; coming upon that crash, a transport truck driver would hit his brakes to avoid it; the Sunfire was travelling behind the transport with Bethany asleep in the passenger seat. As the brake lights flashed, her boyfriend desperately tried to avoid the suddenly stopping rig. He couldn't.
Looking at photos of the Sunfire it's hard to believe Bethany and her boyfriend survived. He would require 100 stitches, but Bethany would have her life altered forever because of one chance decision she made before nodding off.
She had put her feet on the dash.
A deployed airbag inflates at about 320 km/h. That's a little faster than most Formula One cars race. This is what hit Bethany's hamstrings, driving her knees into her face. Her left eye socket and cheekbone were broken, as was her nose. Her jaw was dislocated, a tooth cut through her lower lip and she would lose her spleen. Both feet were broken and compressed, and would eventually end up nearly 2 sizes smaller than they were before the crash. Her left pupil would remain permanently dilated affecting her vision, her hearing would remain altered and her memory would be wiped and rebooted like a faulty computer program. But perhaps the most dangerous injury would be the one her mother was told at the time not to worry about: a brain bleed.
In all of our exchanges and throughout our meeting, Bethany is adamant about getting out the message: everything she had, everything she was, changed because she put her feet up on that dash. Airbags and seat belts are designed to save you, but you compromise that with something as mundane as improper and reclined seating positions. Bethany wants to be an advocate, be able to pass along the message to others who could benefit from all she has suffered.